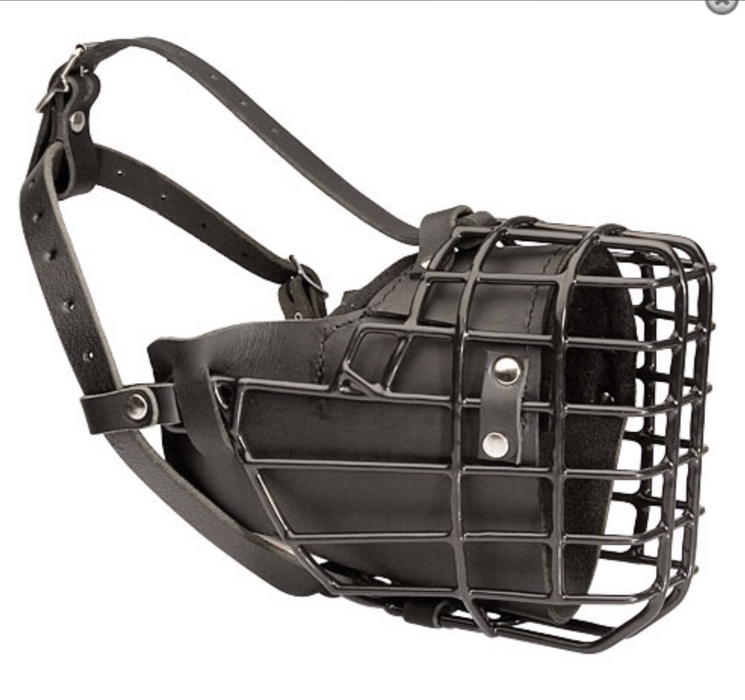 Wire Caged Leather Muzzle
or 6 weekly interest-free payments of

$38.33
What's this?
Great Leather muzzle with a tough coated wire cage for strong dogs.
Nose padding
High air flow
Adjustable Strapping to suit most large breeds
Allows Dog to pant effectively
Great for agitation work or Vet visits
Available in 3 sizes

More freedom for your dog due to the spacious shape.
This revolutionary design wire cage dog muzzle allows your dog to work longer, bark, pant, and feel like being without a muzzle
| | | |
| --- | --- | --- |
| Size | SKU  | Fitting Guide |
| Small | 8027W/1 |  Malinois, Labrador, Small German Shepherd or similar |
| Medium | 8027W/2 | Standard German Shepherd and Rottweiler or similar |
| Large | 8027W/3 |  Large German Shepherd and Rottweiler or similar |
Length

 

: Distance from the tip of the nose to eye line in inches
Circumference:

 

Around snout one inch below eye line in inches
Eye Line:

 

Distance from eye line to the point right behind the ears
Neck Circumference

 

: Circumference around neck behind ears in inches
Width:

 

Snout width in the widest part
Height:

 

Snout height, should be measured with mouth a little open
Size
Breed
Snout Length
Snout Circumference
Eye Line
Neck Circumference
Snout Width
Snout Height
#1
Malinois, Labrador, GSD bitch and similar
5 inches
(13cm)
12 3/5 inches
(32cm)
3 1/5-10 4/5 inches
(8-27.5cm)
12 3/5-21 3/5 inches
(32-55cm)
3 1/5 inches
(8cm)
3 3/4 inches
(9.5cm)
#2
Middle male GSD, Rottweiler
5 2/5 inches
(13.5cm)
13 4/5 inches
(35cm)
2 3/4-11 inches
(7-28cm)
15 2/5-231/4 inches
(39-59cm)
3 3/4 inches
(9.5cm)
4 2/5 inches
(11cm)
#3
Big male GSD, big Rottweiler
5 1/2 inches
(14cm)
14 3/5 inches
(37cm)
2 3/4-10 4/5 inches
(7-27.5cm)
16 1/5-24 1/2 inches
(41-62cm)
3 3/4 inches
(9.5cm)
4 1/2 inches
(11.5cm)